Artistic Contest: Create the 4th Pet for DOFUS Pets!

Communauté

- 2017-05-04 17:00
Back to list
You already know the Tofu, Bow Meow, and Boon that make up the pet starter set. Now, it's time to dream up the next one… And you're the one who has the chance to create it!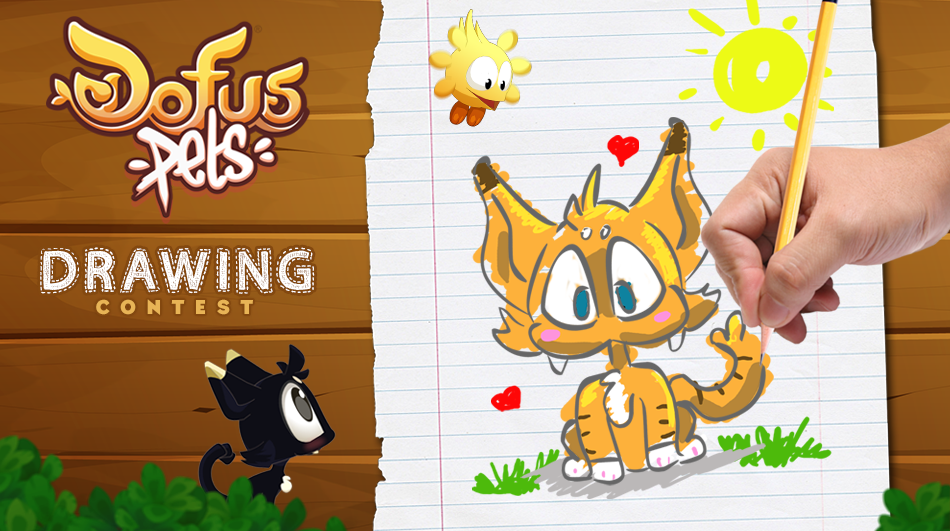 Remember
: a few weeks ago, we presented the DOFUS Pets starter set to you, made up of the
Tofu
,
Bow Meow
, and
Boon
. We told you that we were planning a starting selection of
six different pets
, the following three of which would be brand new.
The moment is now upon us to look at the game's fourth sidekick:
yours
.
Well, that's what we're offering you with this artistic contest: the chance to
imagine
,
design
,
and depict the new pet
that will then be transformed for each evolution and integrated into DOFUS Pets, as well as
DOFUS
,
DOFUS Touch
,
WAKFU
, and
KROSMAGA
.
If the idea of this challenge tempts you, turn your creativity up full, get out your pens, pencils, paintbrushes, or graphics tablet, and pay close attention to the following instructions!
How to Take Part
♦ First Step
Think of your little creature and depict it in the way you like: on paper or digitally, with crayon or stylus… You're completely free to choose the technique you wish.
Remember to abide by the following technical constraints:
the pet must be depicted face-on;
its morphology must be compatible with wearing a hat and a mask;
it must be depicted in its "Measured" form, with the option of transforming it into one of the five other evolutions;
it must be able to be transformed into each of the existing evolutions, as well as into a petsmount;
and, of course, it must be able to mingle into the Krosmoz universe!
♦ Second Step
Post your entry at the bottom of this topic before
11:59 p.m. (CEST) on Sunday, May 28th
.
What You Can Win
The entries that are deemed the most interesting will unlock
access to the test version of DOFUS Pets
. There is no predefined limit to the number of places.
The first three entries will unlock an
Advantage Pack
when the game is released, containing various items: food, heals, equipment, kamas...
And obviously, the winning entry will be
integrated into Ankama's games
!
Useful Info
Entries will be evaluated by the team and selected by Rumo, according to criteria of technical feasibility and graphical originality.
The selected entries will also be subject to the community's vote.
The concept that is elected winner will be reworked and refined by Rumo in order to be made coherent with the game's graphical charter.
Now you're in the know! Now get creating!